Conference Program
---
At AEC 2018 you'll have the opportunity to meet and network with influential leaders, key researchers, and policy makers from every part of the energy sector. This is the energy industry's most inclusive event of the year, spanning an exceptionally broad range of sessions and topics.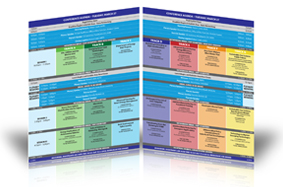 Exhibitor Setup and pre-conference meetings, workshops and training sessions – March 26th
A pre-conference workshop, "Leading the Charge: Evolving Roles of Women in Energy", is being planned on Monday, March 26 and will take place in the Soho Complex, seventh floor from 2:00 – 5:00 pm. This workshop will highlight the contributions of women in the energy industry and discuss the ways to foster climates of inclusivity and gender equality in the industry.
Panel 1 - Recruiting, advancing and retaining women in the energy industry: Leaders in clean energy share their experience in the recruitment, advancement and retention of women in the industry. (2:00 -3:15 pm)


Panel 2 - Addressing Implicit Bias through Culture and Climate: Hear from industry leaders who've fostered climates of inclusivity and gender equality - and are reaping the benefits of a world class workforce. (3:15 – 4:30 pm)
A pre-conference workshop, "How Should Emerging Energy Technologies Advance the State Energy Plan Goals?" is being planned for Monday, March 26 and will take place in the Empire Complex on the seventh floor from 2:00 – 3:30 pm.

Both Workshops are open to the public, but pre-registration is required.
---

Track Sessions – March 27 & 28
Additive Manufacturing for Aerospace Applications
Additive Manufacturing via Functional Printing
Advanced Distributed Simulation Tools
Advanced Manufacturing Policies and Practices
Advanced Sensing for Smart Energy Management
Big Data Analytics (PANEL)
Built Environment Cybersecurity (PANEL)
Challenges & Success of Solar Adoption
Department of Energy R&D Projects
Developer's Round Table (PANEL)
Early Stage & Growth Capital (PANEL)
Emerging Smart Grid Technologies
Emerging Technologies
Energy Implications of Autonomous Vehicles
Energy Storage Permitting Requirements
EVs, Utilities, and the Electric Grid
Heat Pumps: Utilities, Emerging Business Models and Enabling R&D (PANEL)
Heavy-Duty Vehicle Electrification and its Impacts

Marketing & Branding as R&D Considerations
Meeting Peak Demand through Energy Storage
MicroGrids
New York Offshore Wind Master Plan (PANEL)
Offshore Wind Policy Considerations in Industry and Port Development
Offshore Wind Technologies to Reduce Costs
Offshore Wind Workforce
Raising Capital: Lessons Learned (PANEL)
Role of Utilities in Advancing Microgrids (PANEL)
Smart Buildings - Owners' Perspective
Smart Buildings Solutions
Sustainable Gas Systems- New Business Models
Sustainable Gas Systems- Public Polices (PANEL)
Technology to Market: Emerging Technologies
The Digital Utility (PANEL)
The DSO/DSP Transition
Transitioning from Net Metering (PANEL)

Check back frequently for updated information.